International Jury selected the best 15 works of art (11 bookbindings and 4 calligraphic works), these authors were given a "Golden Book" award, issued by the Estonian Association of Designer Bookbinders. In addition were given 45 "Premiums" for the authors of 34 bookbindings and 11 calligraphic works.
The selection made by the Jury was based on the thematic correspondence and on the artistic professionalism exhibited in the works of bookbinding and calligraphy. Also the novelty of ideas and the suitability of the works of art to this particular exhibition were evaluated.

The "Golden book" award in artistic bookbinding were given to:
Hans-Peter Frölich (Germany)
Keiko Fujii (Japan)
Marie Hatano (Japan)
Kristina Kruuse (Estonia)
Marielle Liivet (Estonia)
Mario Maas (Netherlands)
Eiko Nakao (Japan)
Tiina Piisang (Estonia)
Alain Taral (France)
Jonathan Tremblay (Canada)
Stefanie Tönnis (Germany)

The "Golden Book" award in calligraphy were given to:
Terje Hütt (Estonia)
Heino Kivihall (Estonia)
Pavel Makov (Ukraine)
Kai Tort (Estonia)

Awards were given to the winners in the festive opening of the exhibition on September 21st 2000 in the Tallinn Art Hall.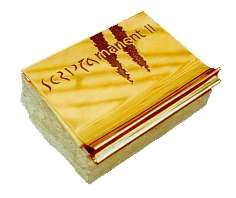 "Golden Book" award